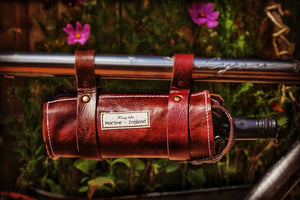 For the love of fine wine, gorgeous gin, amazing ale, beautiful bicycles and perfect picnics this leather bottle carrier will securely, and no less stylishly, transport your chosen beverage on your bicycle.
You can choose a from a number of exquisite colours of the finest quality leather:
Make sure you add your colour choice at the checkout in the notes....
Please be aware that although the leather is beautiful, it is reclaimed and saved from landfill so does have imperfections, these wont detract from the end result, in fact, they show their backstory and that you care.