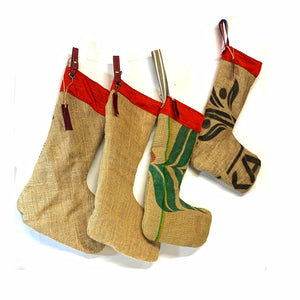 Gorgeous and eco-friendly, these Christmas stockings are handmade from beautiful coffee bean sacks.
Combined with stunning upholstery fabrics saved from local furniture companies they are truly green with no plastic or harmful cotton,
Gorgeous but tough and reliable with brass stud fastener and rivets,
Please note that the item pictured is the one you are purchasing but may differ slightly as lining colours & straps vary in style. 
 To purchase the freshly roasted coffee beans check out Roast Lab Coffee
Please be aware that although the leather is beautiful, it is reclaimed and saved from landfill so does have imperfections, these wont detract from the end result, in fact, they show their backstory and that you care.